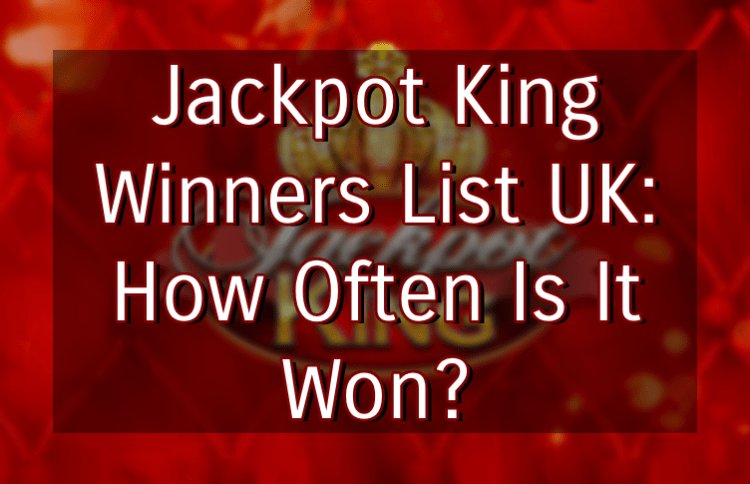 Many online slot enthusiasts are always on the lookout for slot games that offer the largest maximum potential wins. One such opportunity comes in the form of Jackpot King, a popular progressive jackpot system developed by Blueprint Gaming. 
Here at Slots UK, we'll delve into the world of Jackpot King, explore its workings, the frequency of wins, and the biggest winners to date.
What Is Jackpot King?
Jackpot King is a renowned progressive jackpot system by Blueprint Gaming with several participating slot games. Its popularity stems from its jackpot prizes that continuously increase as players from different games contribute to and have the chance to potentially claim said jackpot prizes.
Every time a bet is placed on a Jackpot King game, a small portion of the wager is added to the jackpot pool, causing the prizes to grow continuously until a player wins the jackpot. After a win, the jackpot resets to a predetermined seed value, and the cycle resumes.
The system features three tiers of jackpots:
The Jackpot King (Main Jackpot)
While the Regal and Royal pots have maximum limits (i.e. they must be won before hitting a certain amount), the main Jackpot King has no upper limit.
What Are The Odds of Winning Jackpot King?
Predicting when the Jackpot King will be won is a challenge due to the randomness of slot games. Each spin is determined by a Random Number Generator (RNG), which ensures that every spin's outcome is entirely random and unbiased. 
However, it is estimated that progressive jackpots like Jackpot King are hit around once in every 50 million spins.
How Often Is Jackpot King Won?
As mentioned, the frequency of Jackpot King wins is unpredictable due to the inherent randomness of slot games. The RNG in slot games is random and unpredictable; it also ensures that each spin is an independent event, so it doesn't take the results of past spins into account. 
The Jackpot King feature can trigger on any random base game spin in any of the participating slot games. So, the chances of it landing are the same on each spin. Therefore, in theory, it could trigger on back-to-back spins, or it might not trigger in your session at all or even over multiple sessions. There's no pattern to it, so there's no telling.
That being said, it is noteworthy that the Regal and Royal pots are "must-be-won" pots with a maximum limit, implying that these pots are won more frequently than the main Jackpot King.
Jackpot King Winners List
The Jackpot King system has created numerous winners since its inception. Some winners have chosen to remain anonymous, meaning we don't know how many there have been in total, but several impressive wins have been publicly recorded. 
For instance, in April 2021, a player set a new record by winning a staggering €8,133,445.23 (£7,187,656.41) from a mere €0.80 stake on a Jackpot King version of Deal or No Deal Megaways. This win is the largest ever recorded from Blueprint Gaming's progressive jackpot system.
Jackpot King Deluxe Winners
Jackpot King Deluxe is another version of the progressive jackpot system. The Deluxe series includes popular games such as Genie Jackpots, Eye of Horus, and The Goonies Return. The Regal and the Royal pots in this version have been modified to hit sooner, theoretically offering players more frequent wins.
What Is The Biggest Win on Jackpot King?
The largest win ever recorded on Jackpot King was a whopping €8,133,445.23 (£7,187,656.41), won by a player in April 2021. All from a €0.80 bet on the Deal or No Deal Megaways slot game.
Highest RTP Jackpot King Slots To Play
For players seeking the best return to player (RTP) rates, certain Jackpot King slots stand out. These include the likes of Deal Or No Deal Megaways, Fishin' Frenzy Jackpot King, and The Goonies Return. However, it's vital to remember that while a high RTP can be indicative of potential returns, it is a theoretical value. Slot games are fundamentally games of chance, and outcomes can never be guaranteed. 
Conclusion
In conclusion, the Jackpot King progressive jackpot system encompasses a range of incredible slot games that also offer the potential for significant winnings by all contributing to the same ever-increasing jackpot pool. 
It is important to remember that the Jackpot King feature triggers at random, so there's no telling if or when it could happen, and it is never guaranteed. 
So, please gamble responsibly and understand that gambling is intended for entertainment purposes. 
---
*All values (Bet Levels, Maximum Wins, etc.) mentioned in relation to these slot games are subject to change at any time. Game features mentioned may not be available in some jurisdictions.